Learn new tips and techniques from some of the best outdoorsmen and women in our area! Events and Seminars are scheduled for the entire weekend covering topics such as dog handling, decoy placement, shotgunning tips for layout shooters, and much more! Find out something new, or brush up on some old waterfowling tricks of the trade at the MI Waterfowl Festival.
Duck Hunting Tournament
65th Annual Michigan Duck Hunters Tournament – Lake Erie Open Layout Shoot
Sept. 11th, 10:00 AM – 3:00 PM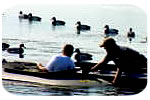 Categories
The tournament features various categories, including Waterfowl Species, Blind Placement, and Distance Shooting.
Each category challenges hunters to demonstrate their expertise in different aspects of the hunt, from species identification to accurate shooting.
Judging Criteria
Teams will be evaluated based on factors such as successful retrieves, adherence to hunting regulations, safety protocols, and overall sportsmanship.
Our experienced panel of judges will ensure fair play and maintain the highest standards throughout the tournament.
How to Participate
Gather your hunting partners and register for the Duck Hunting Tournament. Sharpen your skills, strategize your approach, and prepare for an exhilarating competition that will push your limits and bring out the best in your team.
Decoy Making Contest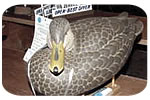 Unleash your creativity and craftsmanship at the Decoy Making Contest. This unique event celebrates the art of decoy carving, an integral part of waterfowl hunting heritage. Showcasing your talent in this contest allows you to contribute to the beauty and authenticity of the sport.
This decoy contest is one of the premier events of its kind in the nation. We will have hundreds of entries from all across our nation and Canada.
Categories
The Decoy Making Contest features categories such as Traditional Carving, Contemporary Carving, and Decorative Painting. Whether you're a seasoned carver or a newcomer to the craft, there's a category that perfectly suits your skills and artistic expression.
Judging Criteria
Judges with a keen eye for detail and a deep appreciation for decoy carving will assess entries based on criteria such as craftsmanship, authenticity, creativity, and overall presentation.
The contest aims to recognize the finest decoy artists and their contributions to the waterfowl hunting community.
How to Participate
Carvers of all levels are invited to participate in the Decoy Making Contest.
Showcase your talent by submitting your masterpieces and be recognized for your craftsmanship. Whether you carve in the traditional style or push the boundaries with contemporary designs, this is your opportunity to leave a lasting impression.
Retriever Dog Training

Discover the key to a successful waterfowl hunting partnership at the Retriever Dog Training Seminar. Led by experienced trainers and handlers, this seminar is designed to enhance the skills of both duck dogs and their handlers, creating a seamless and efficient team in the field.
Learn valuable techniques and strategies for obedience, retrieving, blind retrieving, and more. Witness captivating demonstrations showcasing the remarkable abilities of retriever dogs and gain insights into practical training methods from industry experts.
Participate in interactive sessions, ask questions, and receive personalized guidance to improve your own dog training abilities. Whether you're a seasoned handler or new to retriever training, this seminar promises to unlock the full potential of your four-legged companion.
Don't miss the chance to be part of the annual Michigan Waterfowl Festival, where the passion for waterfowl hunting comes alive. Join us as we pay homage to the rich history of this beloved sport and celebrate the artistry, skill, and camaraderie that define the waterfowl hunting community.
Contact us to reserve your spot today and immerse yourself in the ultimate waterfowl hunting experience. Together, let's celebrate our shared passion for this remarkable sport.
Workshops
10 a.m. Marty Prokop of DeerProject.org – "Deer Hunting Tips for Beginners".
Todd Alofs: "Quacker Attacker Custom Calls" Goose Calling Basics.
11 a.m. Paul Hinnman: "GK Calls" Decoy spreads and basic calling techniques.
2 p.m. Todd Alofs: "Quacker Attacker Custom Calls" Duck Calling Basics.
Just For Kids
What a great time of year to get outside, and start introducing young people to the vast outdoor activities available to Michigan youth. Come to the MI Waterfowl Festival, located at the Pointe Mouillee State Game Area, and bring the kids along.
There are several activities for kids to participate in like:
Kids Fishing – Sat. & Sun 10 AM – 12 PM
This is your opportunity to get your sons or daughters started and eventually take your kids fishing on a boat, dock, or bank. Introduce your kids to the fishing gear, and casting techniques. Share your on-the-water experiences with your children or grandchildren.

BB Gun Shoot – Sat. & Sun 10 AM – 3 PM
Introduce someone new to the shooting sports, or hone your "dead eye" shooting skills at the BB Gun shoot sponsored by Waterfowl USA, and who knows, maybe you will walk away with a brand new Daisy Air Rifle!!
Duck Identification
See how many you can identify! See our "duck pond", and show the others just how well you know your ducks!

Junior Duck Calling Championships
Open to ages 15 years and under. Come show off your goose and duck-calling skills. For more information, visit our duck & goose calling page.
Bow and Arrow Shoot – Sat. & Sun. 10 AM – 3 PM
Come learn to shoot a bow and arrow just the way the Indians did it. Shoot recurve bows at straw targets, and show them just how good of a shot you are!